PADDLE FIRST
Rover evolved from the most innovative paddle boards on the planet, and was designed as a paddle board first. It's channeled, Deep-V nose design quietly slices through the water and paddles efficiently through a variety of water conditions.

PADDLE TO POWER
It's a stand up paddle board. It's a microskiff. It's everything in between. No matter what you call it, one thing's for sure, it's a BOTE. The Rover's revolutionary modular Racs allow you to go from paddle to power in seconds.

IT'S A BEAR
The most stable board we've ever created with a capacity up to 500 lbs, you can walk from rail to rail and nose to tail while maintaining complete control. Designed with your gear in mind, Rover has a place for everything.

GET SOME
With a recommended maximum 6 HP, Four Stroke, Short Shaft (15") outboard, Rover will run like a scalded dog reaching speeds of 16 miles* per hour getting you where you want to be faster than any BOTE we've ever made.

SHALLOWEST OF SHALLOWS
With an extremely shallow draft, the Rover can practically float in spit. Requiring only inches of water you can access places no regular boat would dare venture.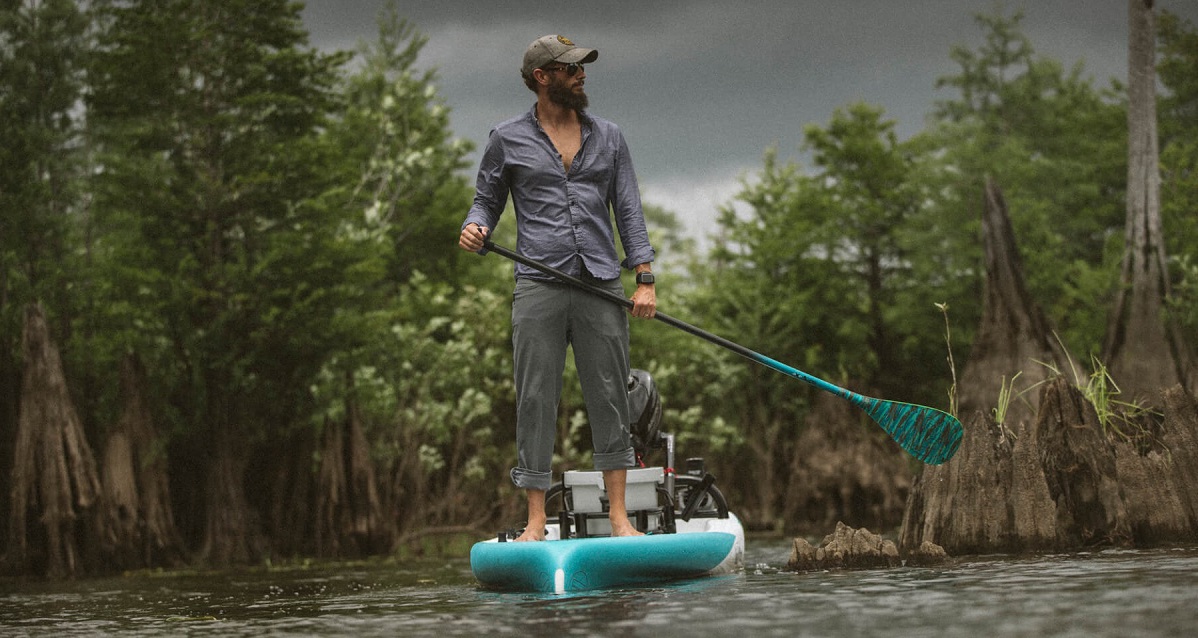 STEALTH MODE
Once you've arrived at your destination, Rover can seamlessly transform into a silent stalker. Creep into the shallowest of sloughs using the included carbon fiber paddle or pole your way with the foot end of a Sandspear while making your way further off the grid.

POWER-POLE® MICRO™
(Sold Separately)
The Power Pole® Micro™ wireless shallow water anchor system is a fisherman's best friend. Slide up on your fishing spot in dead silence and use the anchor to keep your position regardless of current or wind. Rover has mounting points for the Micro™ on both sides of the board. BOTE's Sandspear is interchangeable with the Power-Pole® Micro™ anchor.

GET'N ROUND
When it comes to transporting your Rover, you've got options. Not only does it fit in your garage, but you can load it in the back of your truck, load it on roof racks or tow it with a trailer. Wheel Racs will get Rover from truck to shore with ease.