DESCRIPTION
We offer custom tours for groups of 4-6 (Minimum age of participants is 12 years old). Tour package includes tour guide, basic instruction and single Eddyline recreational kayaks plus gear for each participant. A sit-on-top, double kayak or paddle board is available upon request. Give us a call with any questions and we will help you plan your adventure!
ARMAND BAYOU KAYAK TOUR
Houston, TX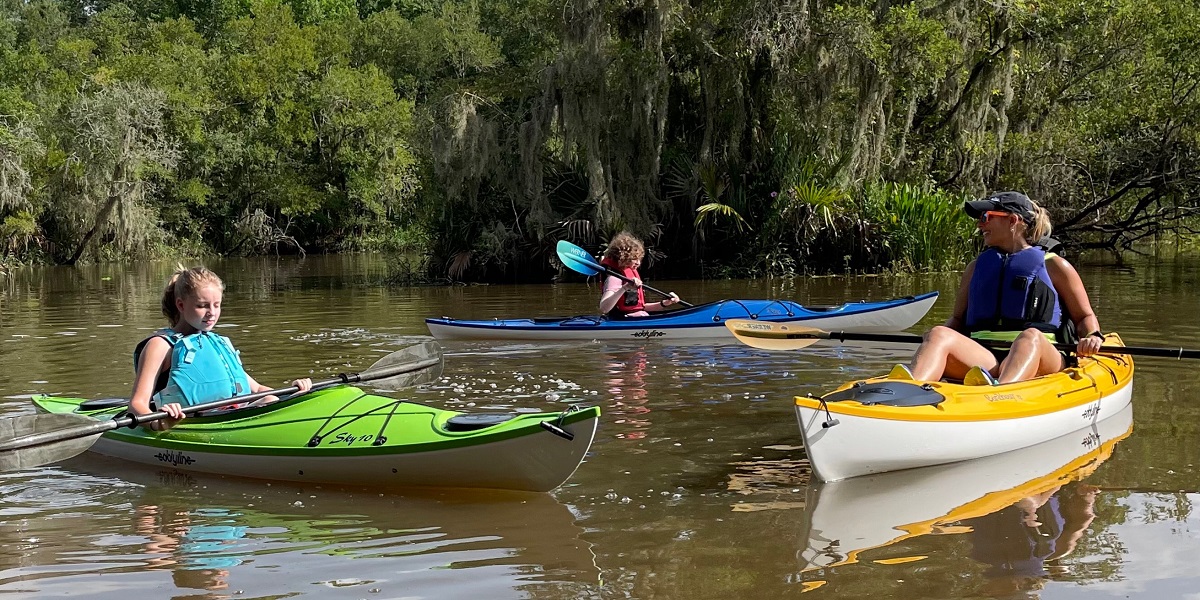 The bayou, while surrounded by urban development, remains one of the few relatively pristine waterways in the Houston area. Its unique character was recognized when it was designated as one of only four Coastal Preserves found along the Texas Coast. Lands adjacent to the bayou provide a glimpse of riparian coastal flatland forest and tall grass prairie habitats that were once abundant in the area. The area is rich in wildlife and is known for a diverse bird fauna where more than 220 species can be found. Common birds seen in the area include osprey, roseate spoonbill, egrets, herons, pelicans and many others.
Our put-in is the boat launch at Bay Area Park where restroom and picnic facilities are available. We will customize a short introduction to kayaking class tailored to your group's needs before launching on our journey 3 miles upstream. Bring your binoculars for close up wildlife and flora viewing! We will take a short on-the-water break before undertaking the return leg of the journey.
BUFFALO BAYOU KAYAK / SUP TOUR
Houston, TX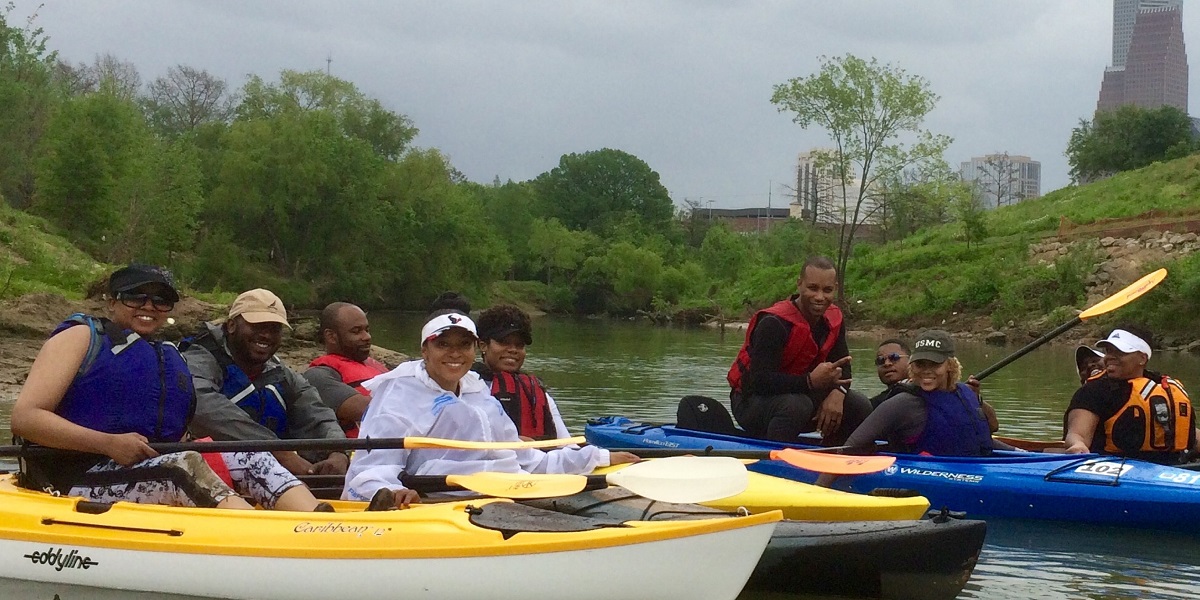 Our put-in is off Memorial Drive near Memorial Park. We'll paddle through the recently opened 160 acre Buffalo Bayou Park. We'll take a break at the Lost Lake Visitor Center before continuing our leisurely float downstream past the Waugh Bridge Bat Colony, Johnny Steele Dog Park, Houston Police Officer's Memorial and numerous iconic fountains and artwork. We'll end our trip with spectacular views of downtown Houston and a take-out at Allen's Landing. Want to continue your adventure on your own? Explore the park trails by bicycle or foot with bike rentals available near the take-out.
LAKE RAY HUBBARD KAYAK TOUR
Rowlett, TX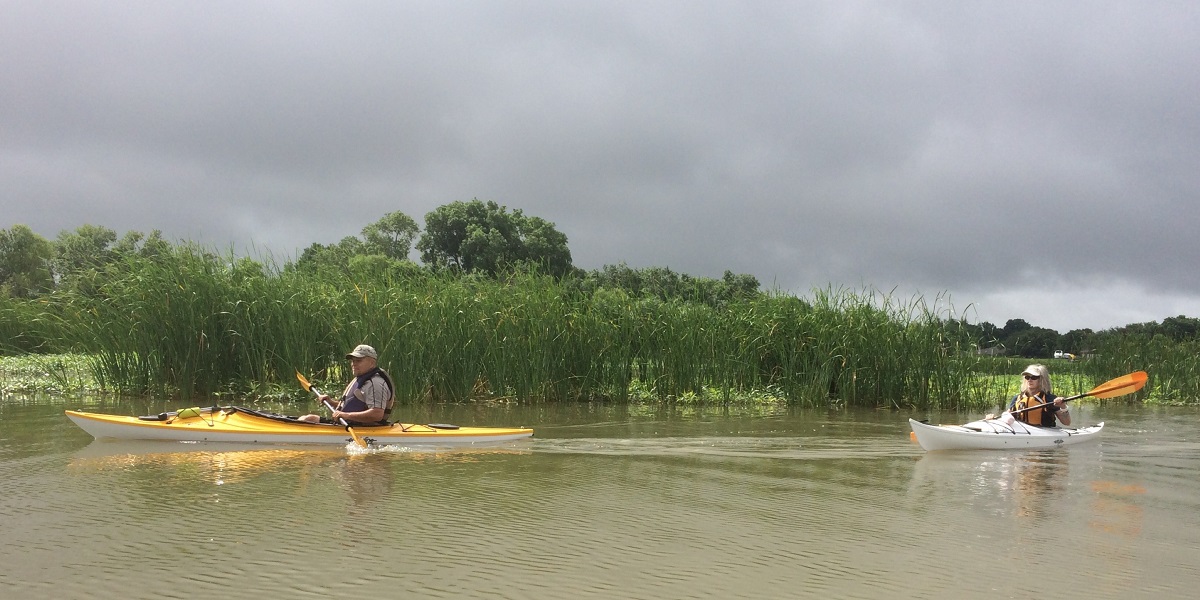 Enjoy the variety of wildlife and scenery on our Lake Ray Hubbard Kayak Tour! Just 15 minutes east of downtown Dallas, Lake Ray Hubbard was impounded in 1968 and serves as a recreational destination, fishing spot and water supply for the surrounding cities. The lake is home to a variety of birds, including Bald Eagles and Great Blue Herons. During migration periods, the lake is host to a wide variety of waterfowl and is dominated by water related birds. Ready to do some exploring?
Lady Bird Lake Kayak Tour
Austin, TX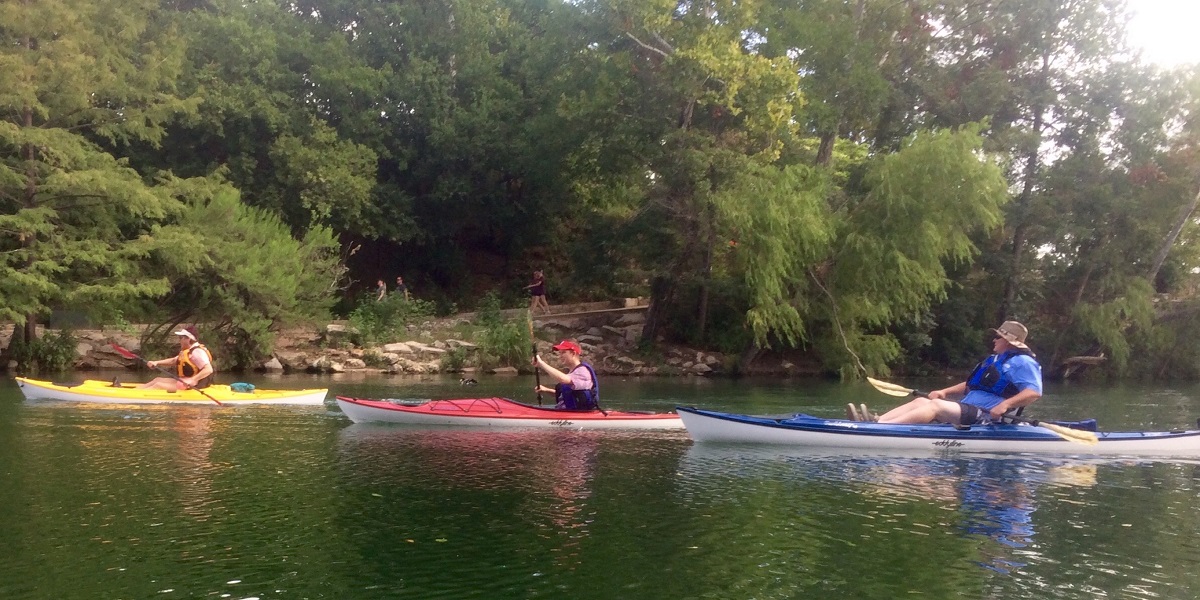 Join us for this scenic Lady Bird Lake Kayak Tour in the heart of Austin, Texas! Lady Bird Lake, named in honor of the former First Lady of the United States, was formed in 1960 by the construction of the Longhorn Dam by the City of Austin to provde a recreational venue for the city. We will take advantage of the spectacular views of the Austin skyline and wildlife habitat provided by the abundance of beautiful bald cypress, sycamore, cottonwood, elm and other trees.
Our put-in is the boat ramp under the I-35 bridge and includes a 6 mile loop to Barton Creek and back. Enjoy the cool spring water of Barton Creek and nearby restroom facilities during our mid-tour break. We hope our kayak tour will inspire you to continue your exploration of our state capital by foot or bike!
Trail Expeditions is a member and follows the guidelines established by the American Canoe Association for Outfitters, Liveries and Guides.