AEROBOTE TECHNOLOGY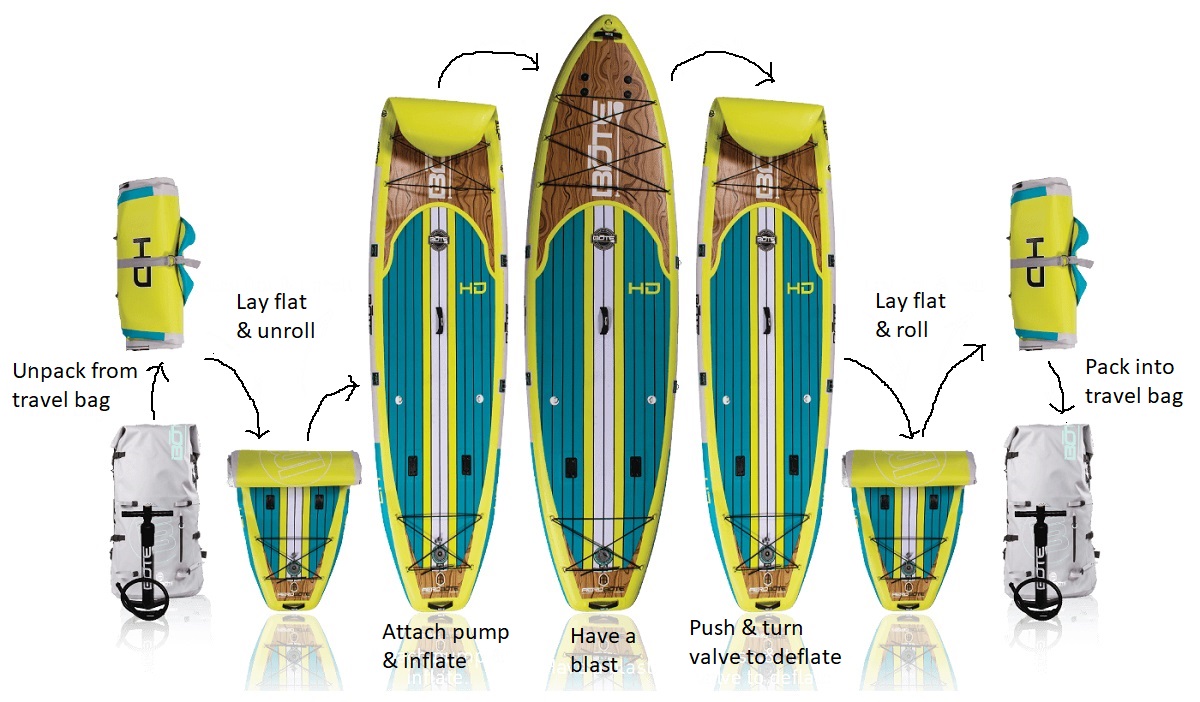 EASY AS AERO
What goes up, must come down. The steps it takes to get a BOTE inflatable on the water and then back and ready to travel: remove the rolled up board from the travel bag, unroll, attach the included pump ... up, down, up, down, until the pressure reaches between 12 and 15 PSI. When you are ready to pack it up, do everything in reverse ... easy as 1,2,3.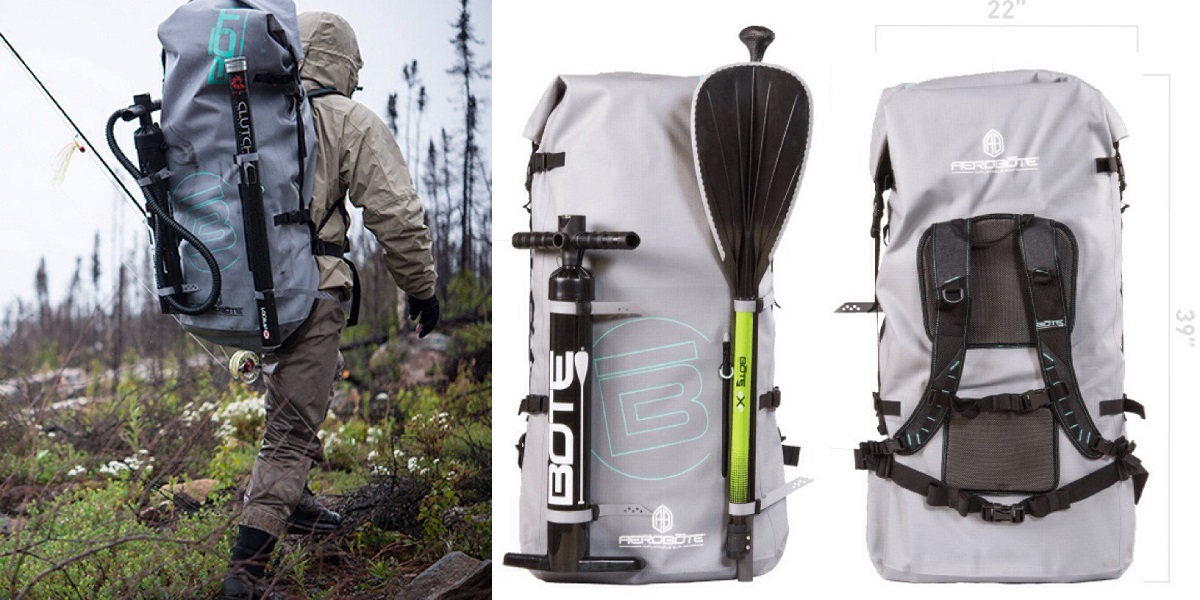 GO ANYWHERE. DO ANYTHING.
All of our inflatables come with their own high-quality rip-stop nylon waterproof travel bag to conveniently carry your deflated board, pump and paddle with you everywhere you go. You can even check these bad boys as luggage on your next flight.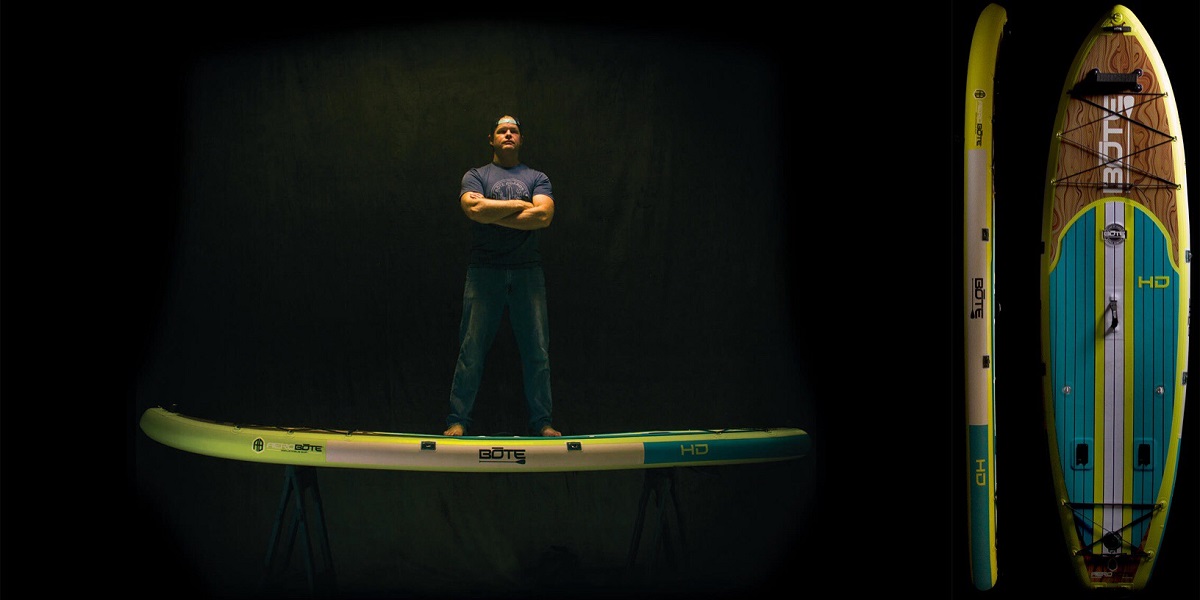 ANYTHING BUT SOFT
When some people hear the word "inflatable" they automatically think "soft". Well, we're here to tell you that our inflatable boards are anything but. When fully inflated, our AeroBOTEs are rock solid making to difficult to tell the difference from a solid board.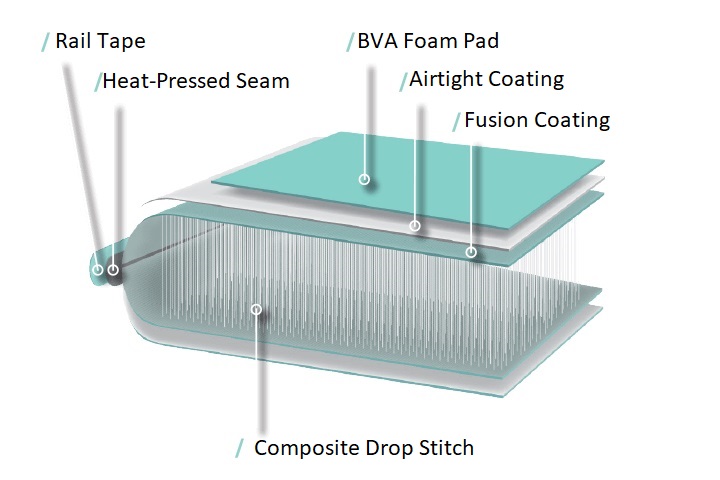 MULTI-LAYER COMPOSITE CORE
We are able to achieve unsurpassed rigidity in our inflatable AeroBOTEs through our unique construction technology. The secret is the use of composite drop stitch fibers which connect the top and bottom layers of high quality, military-grade PVC. When inflated to the recommended PSI, the fibers cause the air pressure to distribute evenly accross the top and bottom surfaces forming a hard, stable platform.
BRANDED TEXTURED DECK PAD
High-quality, heat sealed multi-textured deck pads feature a unique branded "B" logo texture, providing unparalleled comfort and traction.
INNOVATIVE FEATURE SET
AeroBOTEs feature a staggering array of innovative features found nowhere else on the market. Like our solid boards, you can outfit them the way you want, for the things you like to do.
MAX STYLING
BOTE developed the industry-leading process of printing designs and textures to increase the aesthetics for our AeroBOTEs. No more boring color blocks.
DURABILITY & RIGIDITY
Drag it, kick it, push it over a cliff. The AeroBOTEs are incredibly durable and tough. Constructed of military-grade PVC and manufactured with the highest quality materials, AeroBOTEs are there when the going gets rough. When inflated to the recommended PSI, AeroBOTEs are so rigid that most people will think it's solid construction.
EASE OF TRANSPORT
The portability of AeroBOTEs is undeniable. Whether you have a smaller vehicle with no roof mounting system or you take public transportation, the AeroBOTE can go with you. Taking a flight to a remote location or on a family getaway, the AeroBOTE is able to be checked on most airlines. Going on a cruise to the islands or have a boat of your own, yep, the AeroBOTE can accompany you wherever you want to go.
EASE OF STORAGE /
No matter what type of home or storage restrictions you may have, the AeroBOTE is bound to find its place. Packed in its travel bag, the AeroBOTE only takes up the space of a standard suitcase. So whether you live in an apartment in Manhattan, a teepee in the Sierras or in a van down by the river, you can still enjoy all that paddleboarding has to offer.