Test Paddle: Demo Days
DESCRIPTION
Introducing the reimagined Rackham Aero 12'4", now compatible with the APEX Pedal Drive. This all-new combination evolves the Rackham Aero into the ultimate upset of the paddle sports world. Revolutionary adaptability so intuitive that it settles the battle between boards and kayaks. Everything you want out of a paddle board with everything you need out of a kayak, working in harmony to reshape the way you enjoy the water.

VIDEOS
TEST PADDLE
SPECIFICATIONS
Dimensions: 12′4″ L × 38″ W × 7″ D
Capacity: 400 LBS
Avg. Weight: 45 LBS
Construction: Inflatable AeroULTRA Technology
Optimal Inflation: 10-15 PSI
Travel Bag Dimensions: 41″ L × 19″ W × 13″ D
Loaded Bag Weight: 79 LBS
WHAT'S INCLUDED
(1) Rackham Aero 12′4″ Inflatable Paddle Board
(1) 3-Piece Adjustable SUP Paddle
(1) Removable Pedal Port
(1) Rackham Aero Paddle Seat
(1) 10″ Removable Aero Center Fin
(1) Pair of Slide-In Aero Rac Receivers
(1) Removable Aero Paddle Sheath
(1) Removable Aero Sandspear Sheath
(1) Aero Repair Kit
(1) Hand Pump
(1) Rolling Travel Bag
FEATURES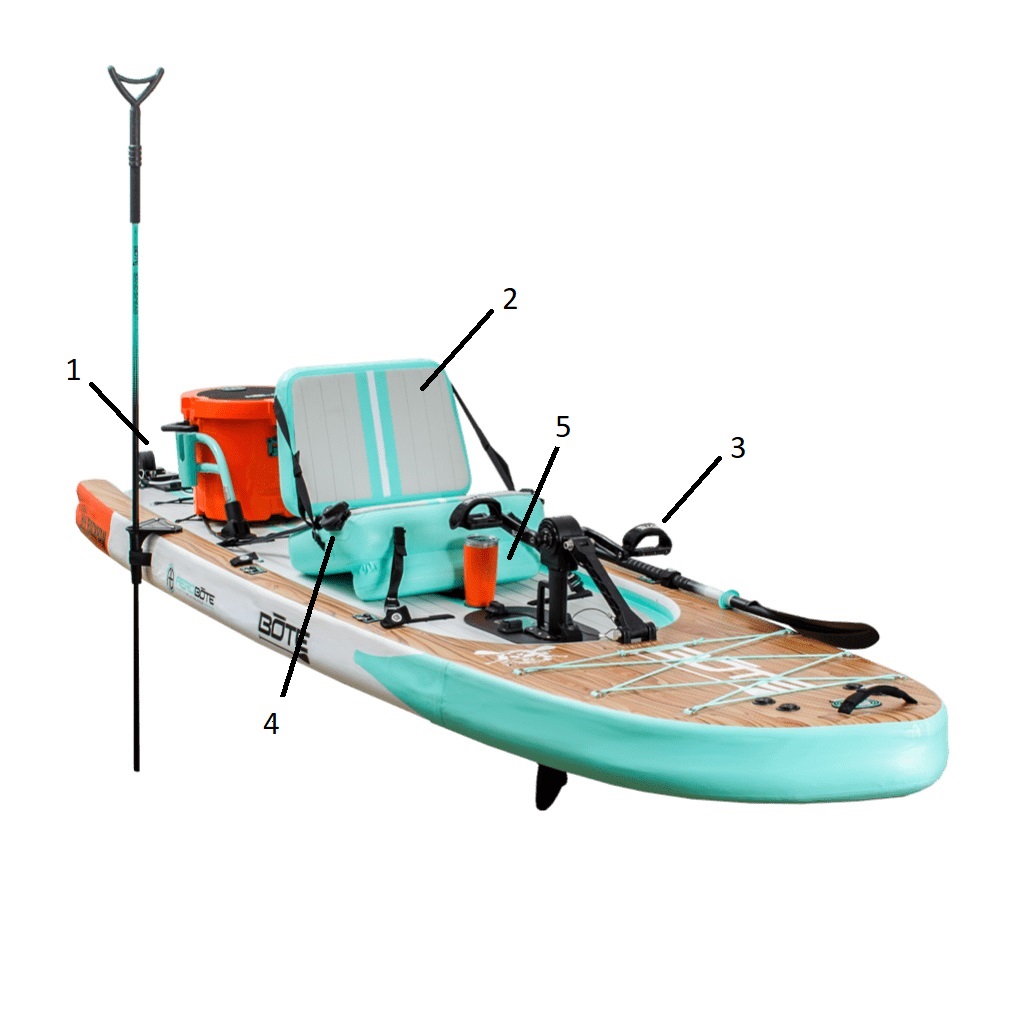 1) SPRING-LOADED KICK-UP RUDDER SYSTEM: Located at the rear of the board, this system ensures that your rudder won't get damaged when moving over shallow water or debris and also allows for easy storage.

2) REMOVABLE AERO PADDLE SEAT: Patent-pending Aero Paddle Seat technology custom-built to fit the Rackham Aero to convert it from stand-up paddle board to sit-on-top kayak.

3) APEX PEDAL DRIVE + RUDDER SYSTEM COMPATIBLE: We pushed the boundaries and evolved the Rackham Aero to be the stand-up paddle board sibling to the LONO Aero by making it a pedal drive compatible watercraft.

4) INTUITIVE RUDDER SYSTEM CONTROLS: Innovative rudder control system works like you'd expect it to. Left to go left, right to go right. Plus, it can be mounted on either side of your Rackham Aero Paddle Seat, making it convenient for both leftys and rightys.

5) MAGNEPOD™ COMPATIBLE: Compatible with our MAGNEPOD magnetic drinkware and accessory retention system.