Pick Up Online Order & Save!
Torqeedo's lightest outboard, the Ultralight 403-AC, gets you to your favorite spot faster, and lets you stay there longer. It offers reliable performance, high-capacity battery, an innovative new angler mount and all the high-tech features of a genuine Torqeedo system: GPS built-in, real-time range and runtime display, solar charging and the latest lithium battery technology.
VIDEO
PRODUCT FEATURES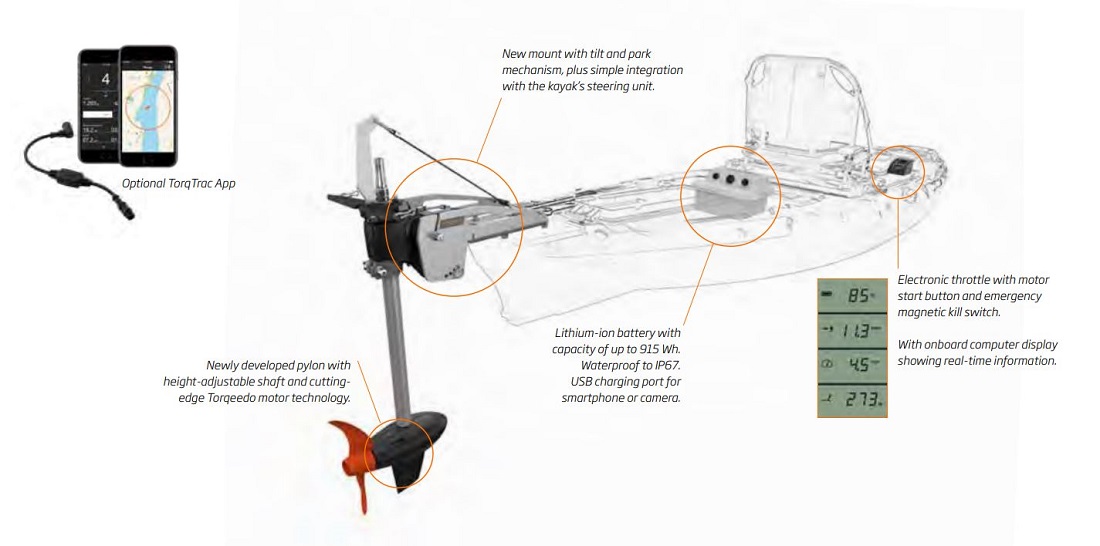 PRODUCT SPECIFICATIONS
Model 403-AC capable of traveling at over 6 mph and covering up to 60 miles with run time of 24 hours at slower speeds.

Weighs only 24 lbs including battery

Stepless remote throttle with on-board computer with real-time display of speed, remaining range, charging status and more

High tech drive system with maximum efficiency: Optimum torque characteristics ensure maximum efficiency at any speed - greater performance and greater range than any other electric motor in this class with the same battery capacity

Efficient propeller design for greater speed

Long-lasting, high performance lithium battery without memory effect. Model 403-AC rated at 915. Now with shorter charging time and USB connection for an on-board light or for charging a mobile phone or camera.

Solar rechargeable - including during the voyage

Simple mounting: The Ultralight 403-AC features a new innovative angler mount with tilt and park mechanism and simple integration with kayak's steering system

Compatible with the rudder steering systems of all popular kayak models

Raise motor out of the water from the kayak seat with lift line. Auto-kickup

Safe, thanks to emergency kill switch and auto-stop in case of capsize

Waterproof to IP67

2 years limited warranty from date of purchase under recreational use.
ULTRALIGHT 403-AC RANGE
Slow - Speed: 2.6 mph; Range: 59.7 miles; Run Time: 24 hr
Half Throttle - Speed: 3.7 mph; Range: 44.1 miles; Run Time: 11 hr-50 min
Full Throttle - Speed: 5.8 mph; Range: 21.0 miles; Run Time: 2 hr-20 min