Select Free Shipping Or Pick Up On-Line Order & Save!
Allow 1-2 Weeks For Custom Built Paddle
The Camano: Hooked features our most popular award winning blade design. Providing the perfect combination for anglers who want enough power to follow schooling fish all day, using the relaxed all around low angle stroke. Matched with ample fit and design features, you can outfit yourself for a lifetime of fishing.
FEATURES
Premium Performance uses material choice and manufacturing skill to allow for a perfect combination of light swing weight and stiffness. Fiberglass blade construction gives you a compromise between swing weight and value.

Mid-size blades fit the widest range of paddlers.

Dihedral allows for smooth and stable forward paddling, a core philosophy for Werner.

Available in our carbon blend Straight shaft, Standard Diameter in longer lengths for wider boats and raised seats.

The Smart View Adjustable ferrule is the most simple, precise fitting on the market. The solid feel of a 1-piece paddle and nothing to snag your gear. (US Patent # 6881111 )
VIDEOS
Werner Hooked: Selecting Your Kayak Fishing Paddle
Werner Smart View Adjustable Ferrule
LINKS
SIZING CHART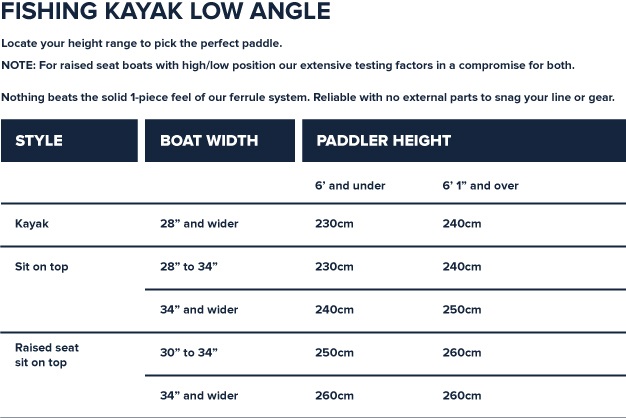 SPECIFICATIONS
Weight: 2pc Straight Shaft: 26.75 oz; 2pc Straight Shaft-Adj Length: 31.5 oz
Blade Surface Area: 101 sq in
Blade Length X Width: 20.5 in x 6.5 in