Test Paddle: Demo Days
DESCRIPTION
Introducing the reimagined pedal drive compatible BOTE LONO Aero 12′6″ Inflatable Kayak. Whether you're hitting your favorite fishing spots on the weekend, gearing up for a water borne expedition, or just hitting the local launch with your family, it's time to say goodbye to compromise.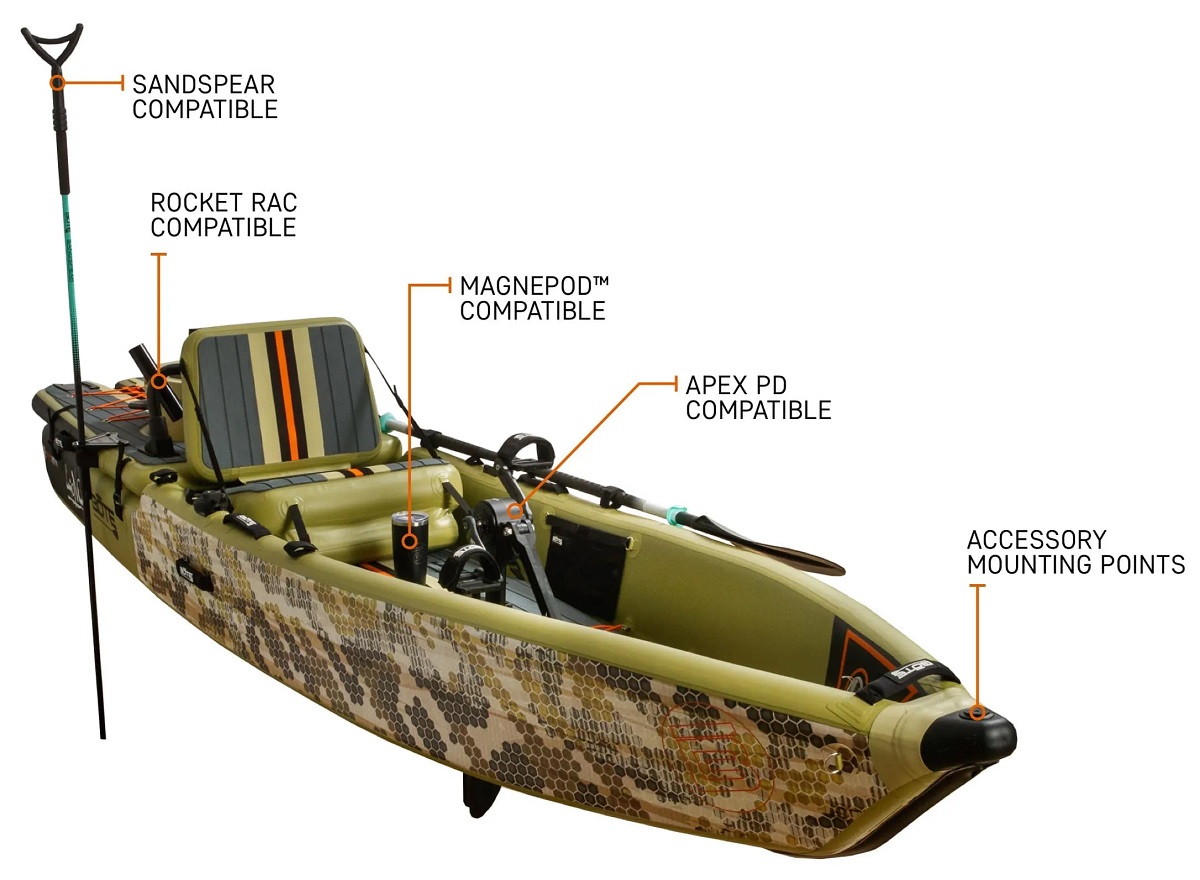 For the person who wants speed, packability, portability, versatility, durability, and a pedal-driven option, the LONO Aero paired with the APEX Pedal Drive delivers. Use the LONO Aero by itself as a kayak or SUP, or add in the APEX Pedal Drive to take things to the next level. Never before have all of these features and benefits been available in one easy-to-use badass package.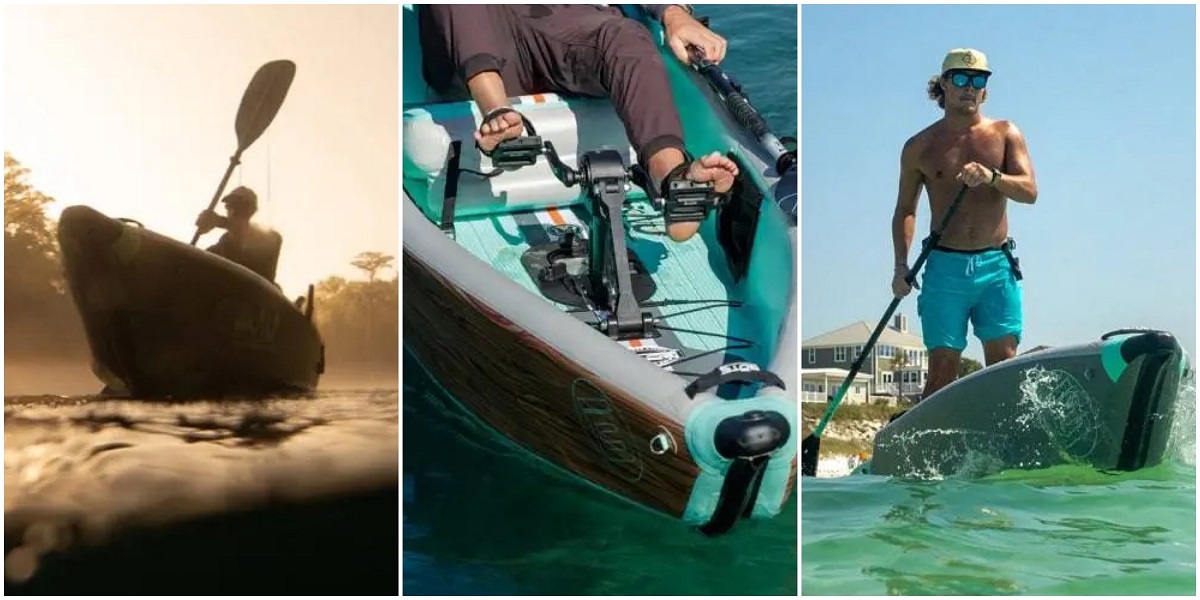 FEATURES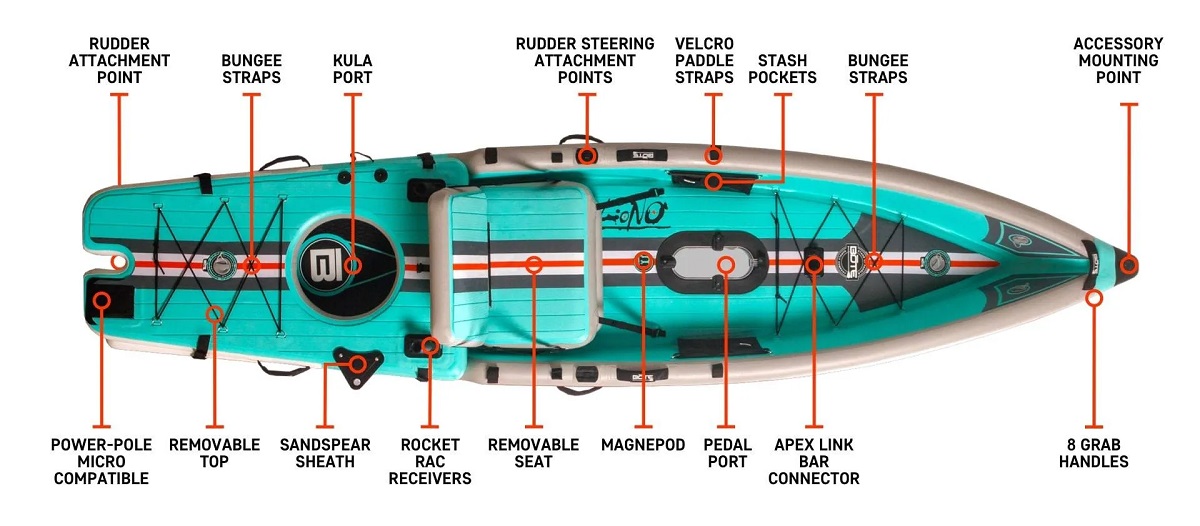 Magnepod Accessoory Attachment Point: The MAGNEPOD™ magnetic base is a revolutionary, tool-less drink retention system that makes securing your BOTE magnetic drinkware a snap.
APEX Pedal Port: The Pedal Port features a clear removable cover that allows for the LONO Aero to be fitted with the sold separately Apex Pedal Drive unit, converting the LONO from standard kayak to pedal driven kayak.
APEX Link Bar Connector: The Link Bar Connector allows for the sold separately Apex Pedal Drive to be secured onto the LONO for pedal driven operation.
Rudder Steering Attachment Points: These attachment points allow for the rudder steering on the sold separately Apex Pedal Drive unit to be installed on either the left or right side of the LONO Aero.
Velcro Paddle Straps: Two sets of velcro paddle straps are located on both the left and right side of the LONO Aero, allowing you to store a sold separately kayak paddle or Sandspear, freeing up space on the floor of the kayak.
Removable Aero Paddle Sheath: The Aero Paddle Sheath can be attached to either the left or right side of the LONO Aero, allowing you to use the sold separately Sandspear as a shallow water anchor.
Power-Pole® Micro Attachment Point: This attachment point allows for the sold separately Power-Pole® Micro to be mounted for battery-powered shallow water anchoring.
D-Ring Tie-Down Points: D-Rings on featured on the nose of the kayak allow for light towing.
Bungee Straps: Bungees located in the nose of the kayak as well as on the removable top on the rear allow for extra gear storage.
Velcro Stash Pockets: Velcro Stash Pockets can be attached to both the left and right sides of the LONO Aero for extra storage.
Kula Port: A KULA Port located on the removable top at the rear of the LONO Aero can be used to secure a sold separately KULA 5 Cooler.
Slide-In Aero Rac Receivers: Aero Rac Receiver attachment points located on the removable top of the LONO Aero allow for the use of a sold separately Rocket Rac
Accessory Mounting Point: An accessory mounting point on the nose of the kayak allows for any 1/4:20 accessory attachment.
Grab Handles: Redesigned to be the most comfortable Grab Handle found on any paddlecraft. No more numb fingers or weak leverage while transporting your kayak.
6" Removable Center Fin: A 6" center fin that is removable with tethered attachment pin that allows for ease of transport and storage.
Made With AEROBOTE: Constructed with our Aero Technology™ to ensure peak rigidity and performance.
Four Chamber Construction: LONO is constructed with four independent chambers making it extremely stable and durable.
Removable Top & Seat: Removable top & seat allow for you to convert the LONO Kayak into a stand-up paddle configuration. Top can also be used alone to float your cooler or other items.
Self-Bailing Cockpit: LONO can rid itself of unwanted water by funneling it out through the stern.
Sidebite Fins: These fins are molded into the hull for increased tracking.

WHAT'S INCLUDED
Lono Aero Bag: This travel bag allows you to easily transport your LONO Aero to places other kayaks can't go.
Rac Receivers: The Rac Receivers mount directly to your kayak allowing you to deck it out for any expedition.
Pedal Port: Allows for installation of the APEX Pedal Drive (Sold Separately)
Sandspear Sheath: The Sandspear Sheath allows you to utilize BOTE's Sandspear to anchor your kayak in place.
Detachable Center Fin: Use the removable 10" fin for increased tracking while paddling.
Hand Pump: This manual pump inflates your kayak by inserting the end of the hose into the inflate ports and pumping to the proper PSI.
Repair Kit: In case of any punctures or rips, our Repair Kit comes with patches, glue, and a valve tool.
SPECS
Dimensions: 12'-6" Length; 35.5" Width; 20" Depth
Average Hull Weight: 51 lbs
Capacity: 400 lbs
Removable Top Dimensions: 53"L X 33"W X 3.5"D
Average Removable Top Weight: 9 lbs
Removable Seat Dimensions: 24"L X 22"W X 18"D
Average Removable Seat Weight: 7 lbs
Construction: Inflatable AeroBOTE Technology
Optimal Hull Inflation: 10-15 psi
Optimal Removable Top Inflation: 10-15 psi
Optimal Removable Seat Inflation: 7-10 psi
Travel Bag Dimensions: 41"L X 19"W X13" D
Average Bag Weight: 73lbs
USES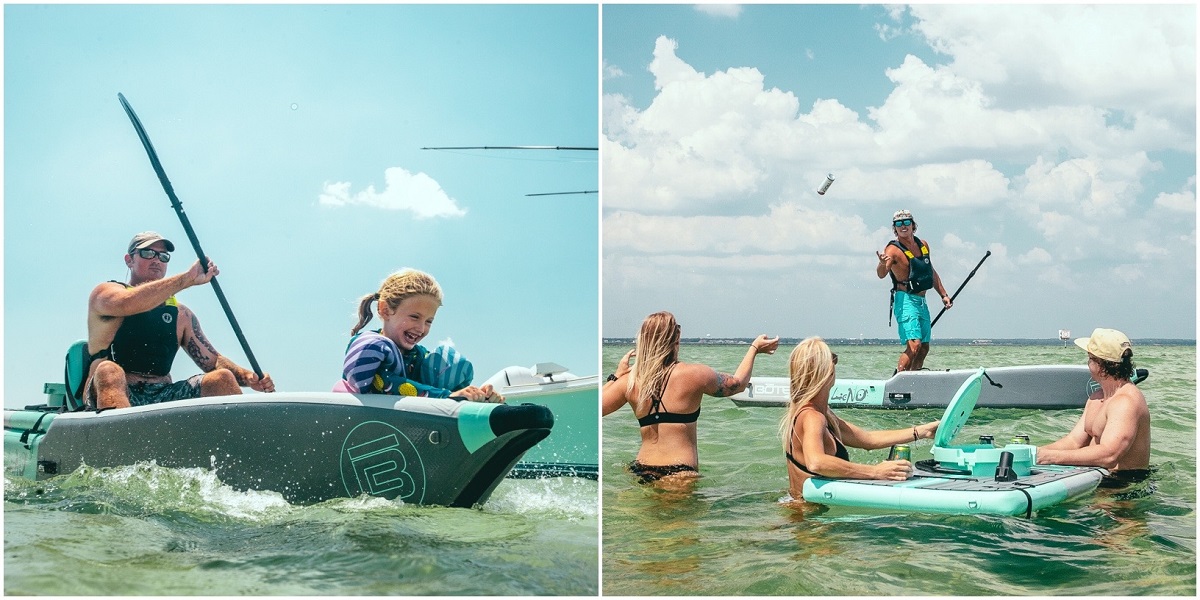 Fun For The Whole Family: In a day and age where everyone is connected, sometimes it's best to disconnect and get back to nature. If you love the water, kayaking is the best way to experience it and especially with the family. The LONO Aero is a portable, light, and durable option your family can enjoy for years. Plus, with its stability and comfortable deck pad it makes for the perfect kayak for family outings with kids or dogs. When it's time to play, detach the removable top for fun in-water kids dock.
Fun & Easy: Whether you are looking for a quick paddle before work or a day on the water with friends, LONO is going to help you maximize your fun. The hull shape and center fin were designed to allow maximum efficiency with minimal effort, allowing you to get to where you want to go with ease. While at the sandbar or in shallow waters, float the removable top chamber with a KULA to create mobile bar to hang out and have fun.
FISHING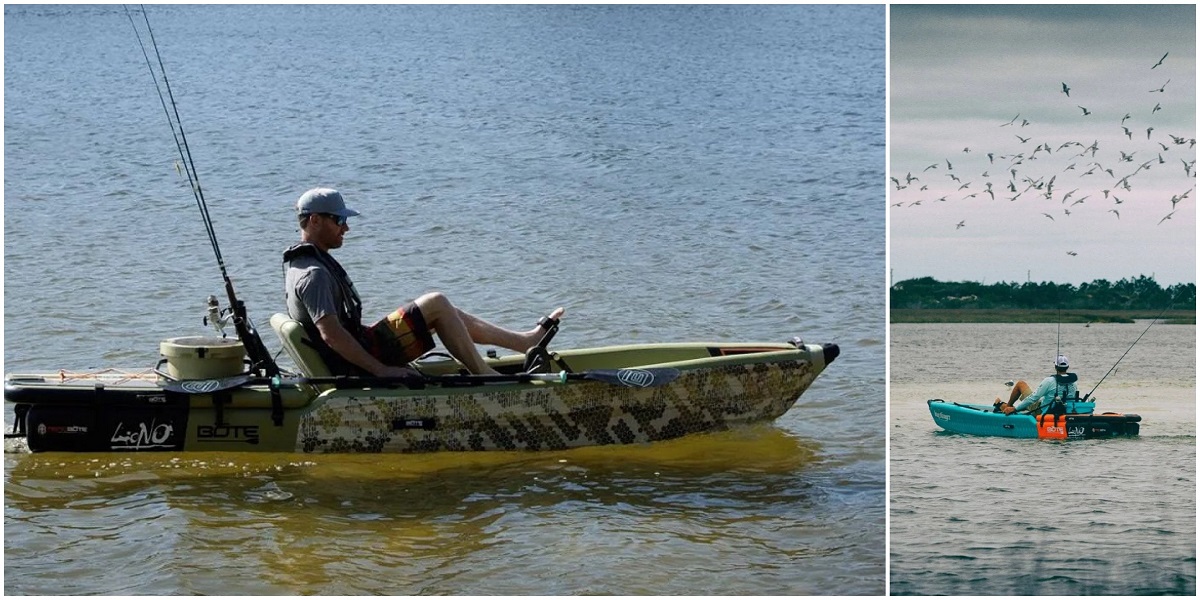 Gotta Cast 'Em All: Being comfortable on the water, and especially as a paddler, will make your fishing much more enjoyable. The LONO Aero's extreme stability will make you feel confident when making standing casts, which is a great way to increase your line of sight and casting distance. Plus, with the keel guard and mounted side bite fins, you can maneuver into the shallows while the underside is protected.
No Soggy Bottoms With The Self-Bailing Cockpit & Elevated Seat: Utilizing gravity and momentum the kayak can rid itself of unwanted water by draining through the stern. The sit-on-top design keeps you elevated off the hull so that you remain comfortable and dry as water moves out. Additionally, the removable, adjustable seat ensures you can sit much more comfortably than a traditional kayak. This is especially convenient when you're enjoying a paddle during cooler weather.
EXPEDITIONS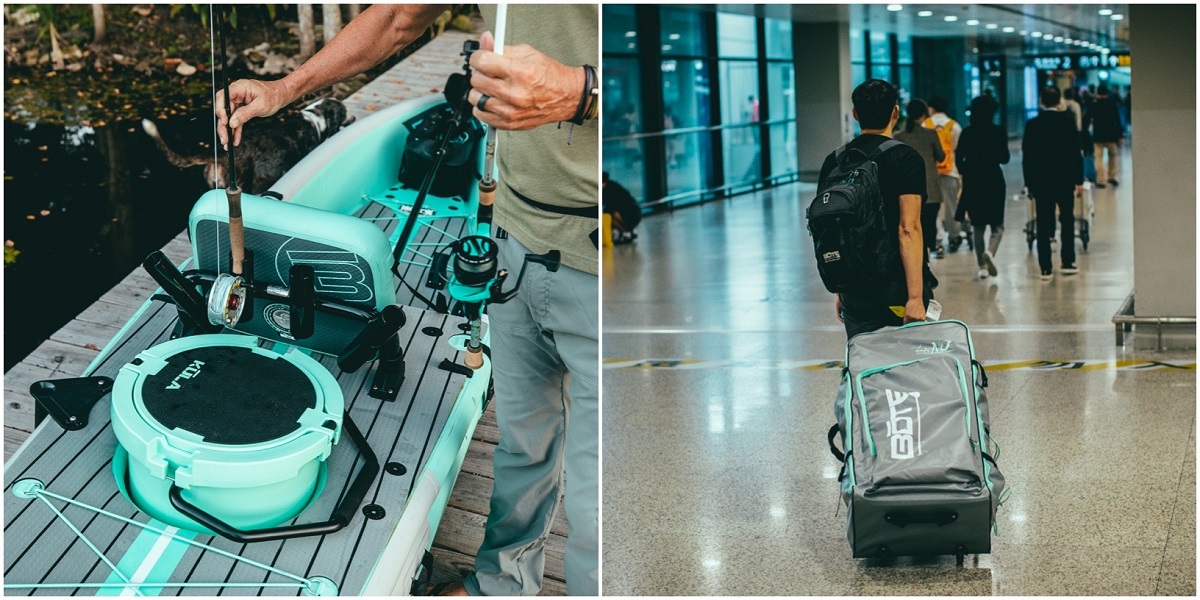 Load It Down For A Long Excursion: What would be the point of a kayak for expedition if you couldn't load it down? The LONO Aero can carry up to 400LBS, ensuring you and all of your equipment can travel just fine while scouting your next campsite for your off-land adventures. And don't worry about having to cram all your gear in the front to leave room for yourself to sit, the elevated seat means that you've got plenty of additional storage right under your butt!
Bring It Along On Your Next Trip: Between the inflatable technology and the rolling carry bag the LONO Aero is practically begging to go on your next trip with you. Don't be bummed out by feeling restricted to nearby spots. The LONO Aero bag is compliant to check with most commercial airlines, allowing you to think outside the traditional "tourist" box when traveling afar. And once you arrive at your next new adventure location, just pump it up and paddle.