Pick Up Online Order & Save!
Named for the Hawaiian god of tenacity and vigor, the LONO is BOTE's first entry into the kayak category. This first-of-its-kind kayak is constructed with BOTE's inflatable AeroBOTE Technology and goes from travel bag to a 12′6″ fishing kayak in a matter of minutes. The LONO shares many of our paddle board feature options, which allow it to be accessorized and configured to make it your own. Not to mention, it's lightweight, easy to store, easy to transport, and a blast to paddle! BOTE's first-ever voyage into the kayaking sphere sets the high water mark for drop stitch inflatable kayaks. With truly, unimaginable convenience, stability, performance, and a whole gamut of features unique to this platform, the LONO inflatable kayak will transform your kayak fishing or paddling experience. Most notable is the four-chamber construction, which gives the kayak its shape and performance characteristics. It's an amazing adaptation of our Aero Technology.
SPECS
Inflated Dimensions: 12'-6" Length; 35.5" Width; 20" Depth
Capacity: 400 lbs
Average Weight: 61 lbs
Construction: Inflatable AeroBOTE Technology
Optimal Inflation: 12-15 psi
Lono Aero Travel Bag Dimensions: 39" Length; 18.5" Wide; 11.5" D
Average Loaded Weight: 70lbs
VIDEOS
BOTE Lono Aero Inflatable Kayak Overview 1
BOTE Lono Aero Inflatable Kayak Overview 2
BOTE Lono Aero Inflatable Kayak Getting Started Guide
INNOVATIONS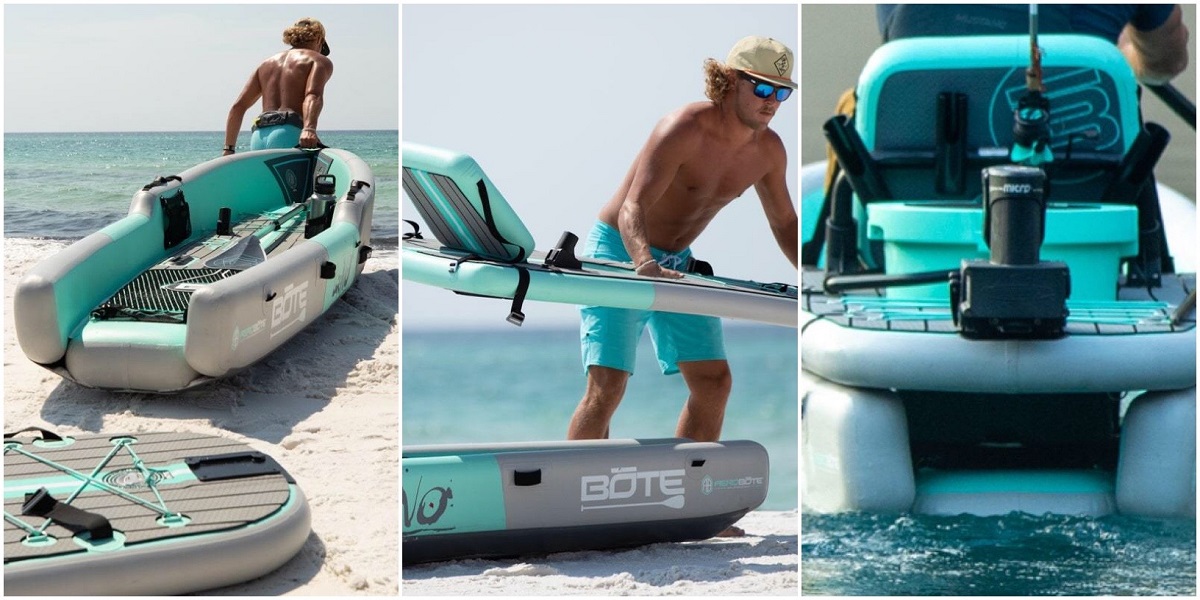 Multiple Configurations: The LONO was designed to be a traditional sit-on-top kayak as well as a stand-up paddle platform.
Removable Top: Removable top allows for you to convert the LONO Kayak into a stand-up paddle configuration. Top can also be used alone to float your cooler or other items.
Self-Draining Cockpit: LONO can rid itself of unwanted water by funneling it out through the stern.
Four Chamber Construction: LONO is constructed with four independent chambers making it extremely stable and durable. This construction gives the kayak a significantly higher level of stability when standing.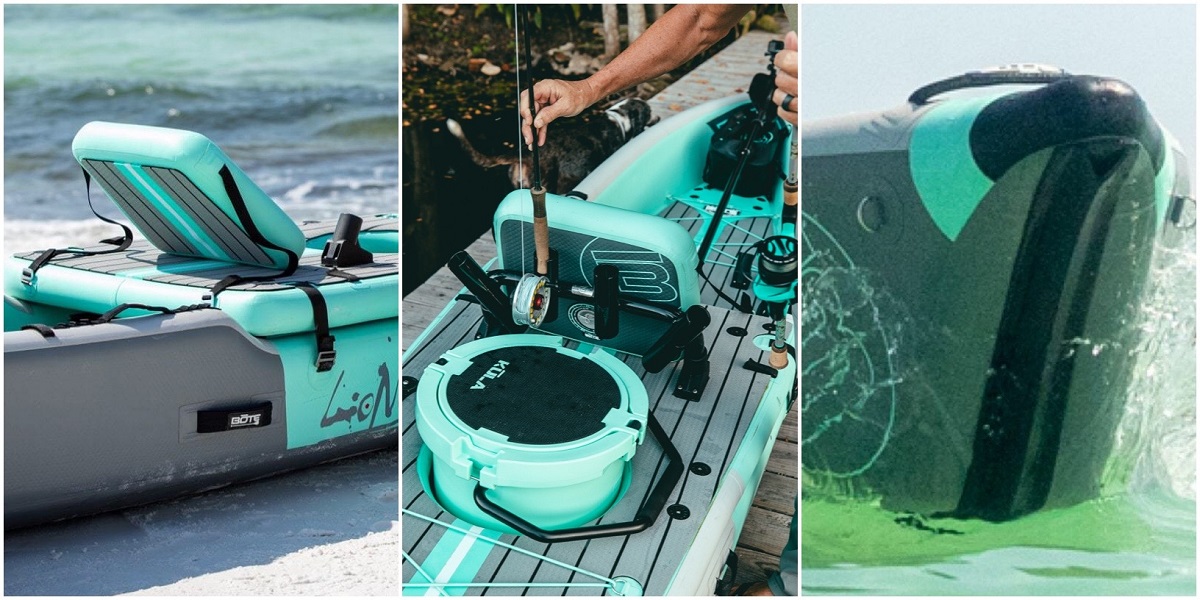 Removable Seat Back: The adjustable seat can be simply detached with the integrated g-hooks and can be slid right out of the male/female vinyl track.
Rocket Rac Compatible: The Rocket Rac (sold separately) was designed specifically for the LONO and fits the rac receivers located just behind the seat back.
Kula Port: The perfect spot to secure your KULA 5 (sold seperately) or even a 5 gallon bucket.
Keel Guard: Runs halfway down the underside of the kayak, helps paddle more efficiently and saves the bottom from abrasion.
FEATURES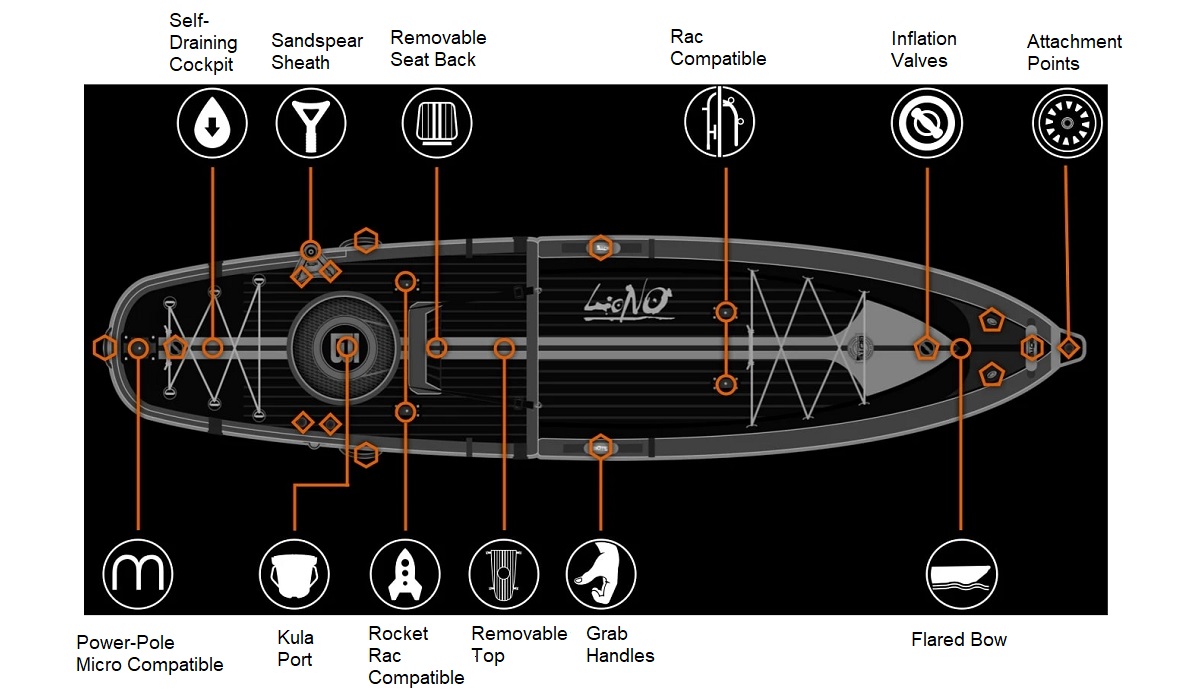 WHAT'S INCLUDED
Lono Aero Bag: This travel bag allows you to easily transport your LONO Aero to places other kayaks can't go.
Rac Receivers: The Rac Receivers mount directly to your kayak allowing you to deck it out for any expedition.
Sandspear Sheath:The Sandspear Sheath allows you to utilize BOTE's Sandspear to anchor your kayak in place.
Detachable Center Fin: Use the removable 10" fin for increased tracking while paddling.
Hand Pump:This manual pump inflates your kayak by inserting the end of the hose into the inflate ports and pumping to the proper PSI.
Repair Kit: In case of any punctures or rips, our Repair Kit comes with patches, glue, and a valve tool.
CONFIGURATIONS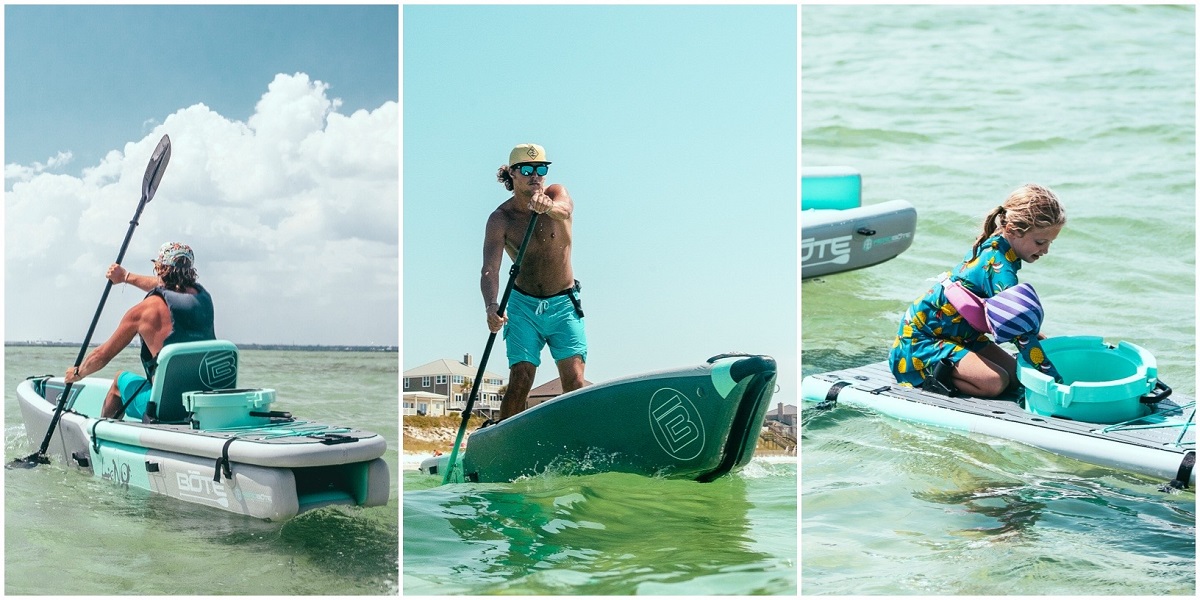 Kayaking: The LONO was designed to be a sit-on-top kayak. As such, center yourself on the seat, adjust the seat back as needed and paddle it as you would any other kayak.
Stand-Up Paddling: With the convertible top chamber, the LONO transforms from kayak to stand-up paddle platform in seconds. Simply remove the top and seat back and you're set for some SUP adventures.
Top Chamber: Use the removable convertible top chamber separately to float your KULA cooler, let your kids have somewhere to sit, or simply use it as a spot to rest your drink while you're relaxing in the water.
RECREATION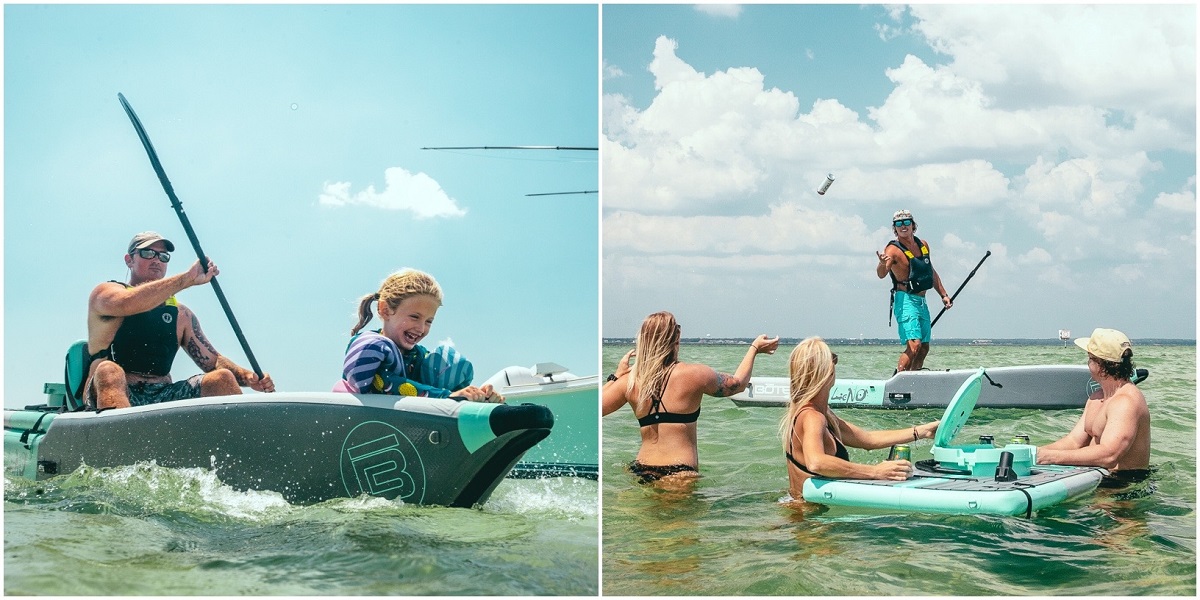 Fun For The Whole Family: In a day and age where everyone is connected, sometimes it's best to disconnect and get back to nature. If you love the water, kayaking is the best way to experience it and especially with the family. The LONO Aero is a portable, light, and durable option your family can enjoy for years. Plus, with its stability and comfortable deck pad it makes for the perfect kayak for family outings with kids or dogs. When it's time to play, detach the removable top for fun in-water kids dock.
Fun & Easy: Whether you are looking for a quick paddle before work or a day on the water with friends, LONO is going to help you maximize your fun.The hull shape and center fin were designed to allow maximum efficiency with minimal effort, allowing you to get to where you want to go with ease. While at the sandbar or in shallow waters, float the removable top chamber with a KULA to create mobile bar to hang out and have fun.
FISHING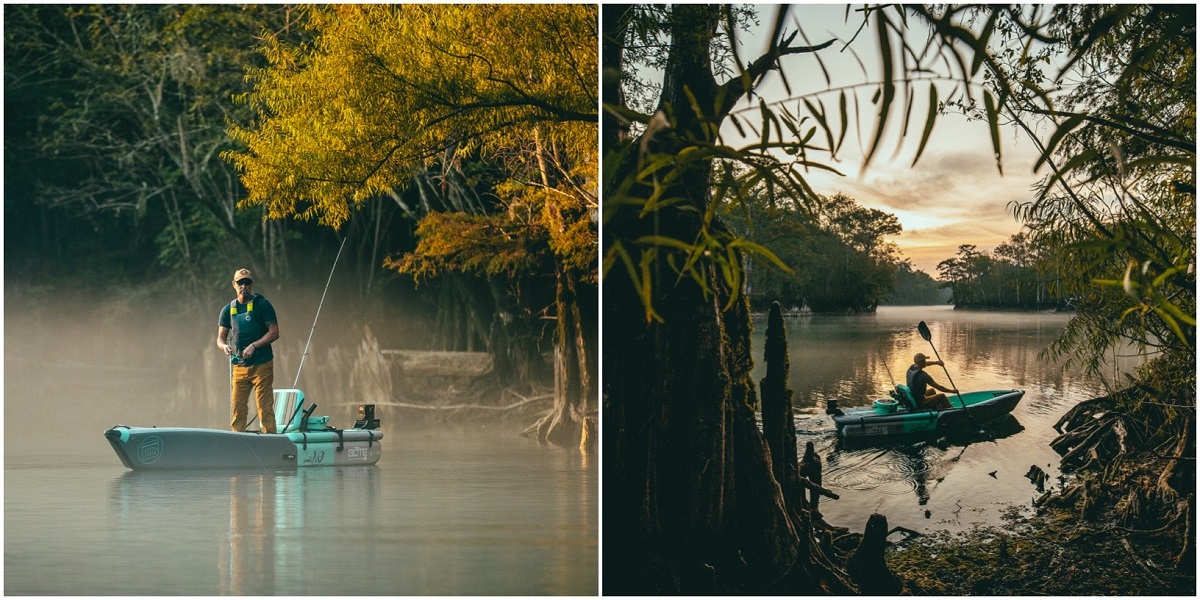 Gotta Cast 'Em All: Being comfortable on the water, and especially as a paddler, will make your fishing much more enjoyable. The LONO Aero's extreme stability will make you feel confident when making standing casts, which is a great way to increase your line of sight and casting distance. Plus, with the keel guard and mounted side bite fins, you can maneuver into the shallows while the underside is protected.
No Soggy Bottoms With The Self-Bailing Cockpit & Elevated Seat: Utilizing gravity and momentum the kayak can rid itself of unwanted water by draining through the stern. The sit-on-top design keeps you elevated off the hull so that you remain comfortable and dry as water moves out. Additionally, the removable, adjustable seat back ensures you can sit much more comfortably than a traditional kayak. This is especially convenient when you're enjoying a paddle during cooler weather.
EXPEDITIONS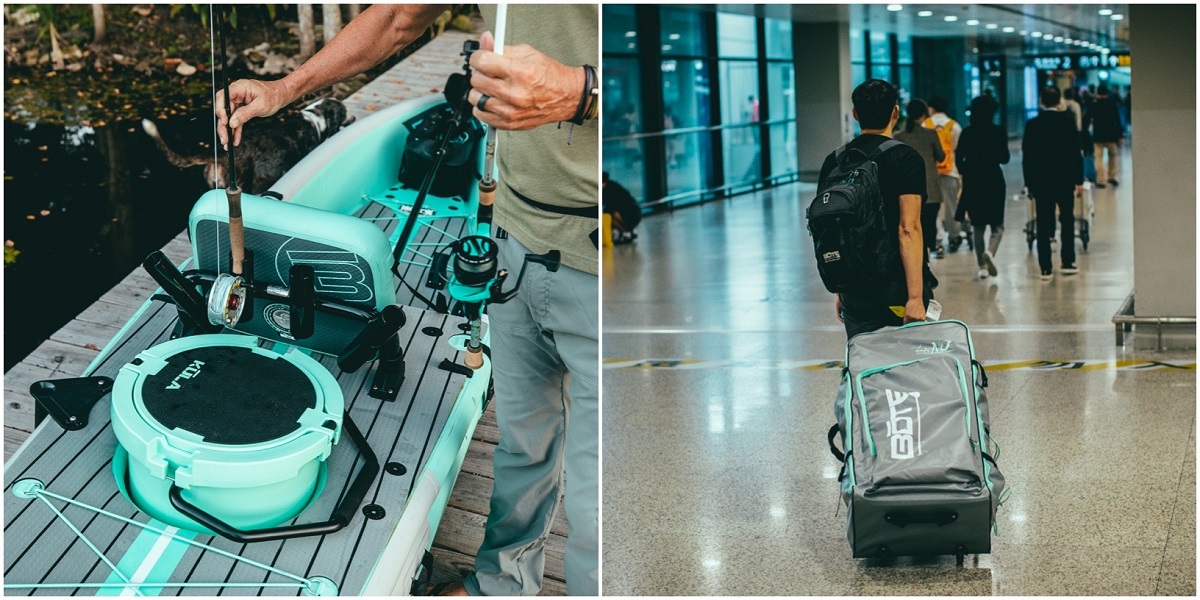 Load It Down For A Long Excursion: What would be the point of a kayak for expedition if you couldn't load it down? The LONO Aero can carry up to 400LBS, ensuring you and all of your equipment can travel just fine while scouting your next campsite for your off-land adventures. And don't worry about having to cram all your gear in the front to leave room for yourself to sit, the elevated seat means that you've got plenty of additional storage right under your butt!
Bring It Along On Your Next Trip: Between the inflatable technology and the rolling carry bag the LONO Aero is practically begging to go on your next trip with you. Don't be bummed out by feeling restricted to nearby spots. The LONO Aero bag is compliant to check with most commercial airlines, allowing you to think outside the traditional "tourist" box when traveling afar. And once you arrive at your next new adventure location, just pump it up and paddle.