Test Paddle: Demo Days
DESCRIPTION
In order to make your mark on the world, you often have to make a voyage from the familiar into far off places where few have ventured or even dared. These journeys are necessary to discover our true selves and grow our knowledge of the world around us. We have developed a platform that will help you take that journey. A BOTE like no other, that will take you farther, faster than anything we have ever created. We call it Rover.

We created the Rover to take your fishing expeditions to the next level. The sunken cockpit and deep v-nose are designed to give you maximum stability with the agility to get you through even the roughest chop with ease. It'll turn on a dime and maneuvers like an angler's dream - so you can stalk your catch wherever it may lead you.
VIDEOS
SPECIFICATIONS
Dimensions: 14′ L × 40″ W × 12″ D
Capacity: 500 lbs
Avg. Weight: 105 lbs
Construction: Gatorshell Technology
WHAT'S INCLUDED
(1) Rover Micro Skiff
(1) 2-Piece Adjustable SUP Paddle
(1) 10″ Center Fin
(3) Vertebrae
(1) Motorac
FEATURES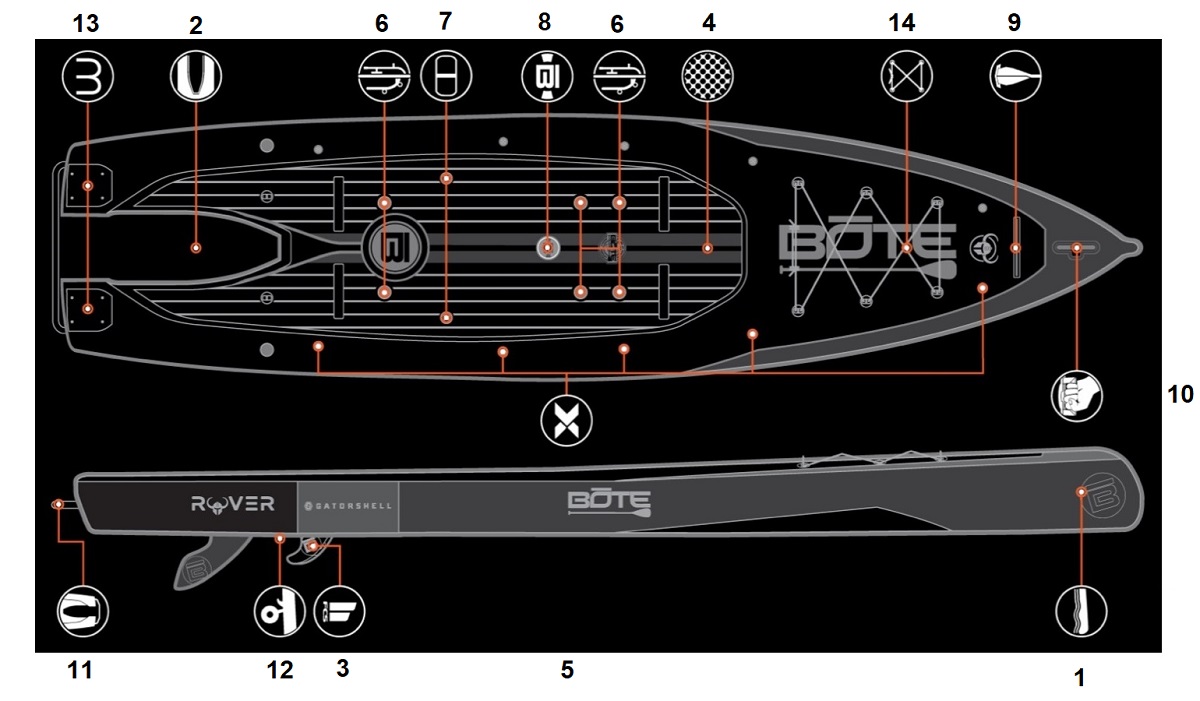 1) Displacement Hull: A displacement hull has a deep-V nose which allows the board to cut through the water efficiently. It's a good choice for fitness, extended paddling, and fishing.
2) Power Well: Inset power well improves performance and safety, allowing you to trim the motor up when paddling.
3) FCSII Fin System: Attach additional fins (sold separately) for increased tracking while paddling
4) BVA Deck Pad: The BVA multi-textured deck pad is heat sealed to shed water and provides plenty of cushion to reduce fatigue and anti-slip traction.
5) Connex SUP Points: Accessory mounting points on the deck of the board for attaching additional rod holders, fish finders or other attachments.
6) Rac Compatible: Our paddle boards come with accessory integration systems that allow the paddler to "deck out" their board with our custom Racs.
7) Cooler Toe-Downs: Tie down points on the deck of the board, perfect for lashing down a cooler (or other gear).
8) Stashpod: The Stashpod is a convenient storage container with an integrated bottle opener. It's the best place to "stash" your keys or hold your drink.
9) Paddle Sheath: Keeps your hands free
10) SUP Lift Handle: A retractable handle that allows a significantly better way to carry, maneuver and manage your paddleboard out of the water.
11) Lift Bar: Powder-coated aluminum bar for lifting and safety from motor.
12) Wheel Rac: Easily slip the Wheel Rac (sold separately) into the Wheel Rac receivers and rock & roll. The Wheel Rac's oversized balloon tires will glide over almost any terrain with minimal effort.
13) Power-Pole Micro Mount: Mounting points for a Power-Pole® Micro wireless shallow water anchor (sold separately).
14) Bungees: Adjustable Bungee Straps provide quick and easy storage of extra gear and are available on all of our board models.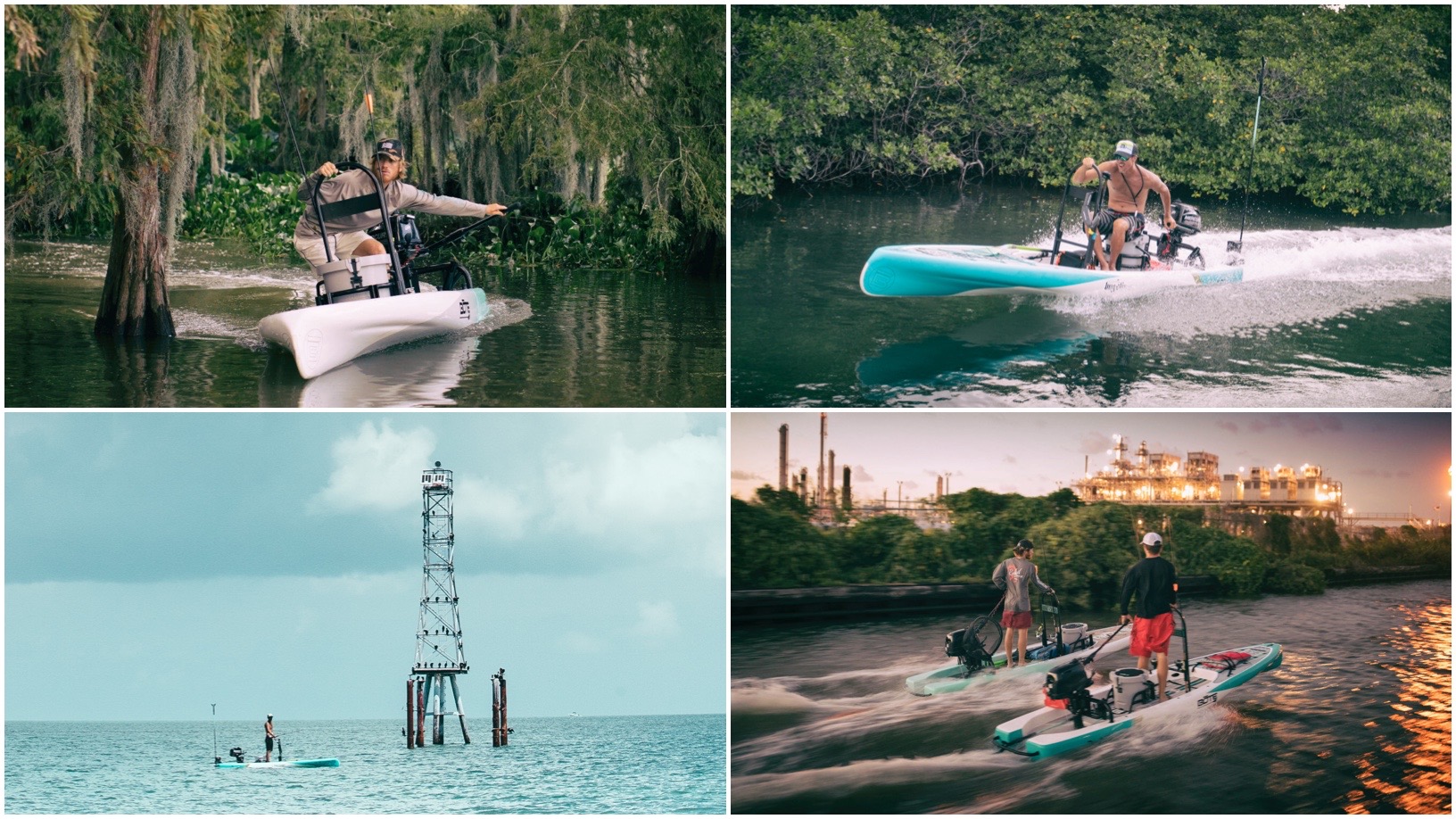 Sweet Spot: When under power, the Rover is designed to lift the nose out of the water which provides a smoother ride and tighter turning. Use a tiller extension to stand up while you run giving you a top down view of your surroundings and leave the back deck open for plenty of room to move around while you fish.
Going The Distance: The Rover has a large range, allowing you to get to places you never thought possible on a paddle board. The Moto Rac is equipped with mounting points to add additional JerryKan gasoline cans. Extend your range with up to 2 JerryKans per Moto Rac, each holding 3 liters (0.75 gallons) of extra gasoline. Constructed from high quality molded plastic, these Kans come with a vented, sealed cap and all mounting hardware required to install on your Moto Rac.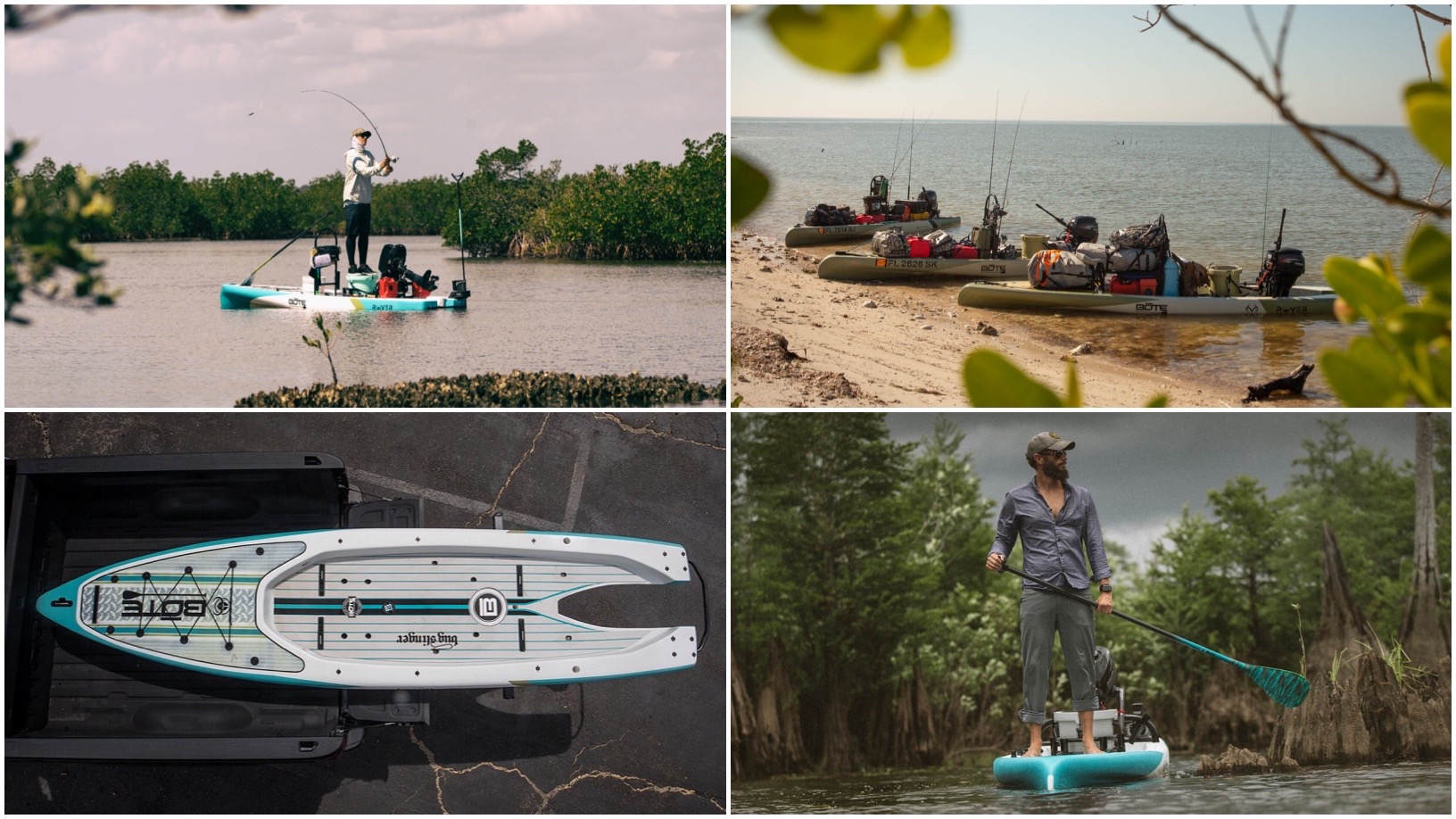 Like Butter: With the motor trimmed up, Rover will float in 3" of water with 220lb load (Person, Gear, and Motor). You can access places no regular boat would dare venture. While paddling, the Rover lies down flat and allows the Deep-V nose to do it's thing, carve through the water with silent efficiency.